At a time when consumption patterns and consumer demands are changing, picking is a crucial step in the preparation of retail orders. But it's also one of the most time-consuming and costly of all logistical operations. For pickers, who spend more than 70% of their time on the move (covering between 10 and 15 km per day), it's arduous work that involves a lot of walking around.
In a traditional warehouse, picking accounts for up to 55% of operating costs. It's an essential link in supply chain, combining speed, reliability and controlled costs; slowdowns and errors affect efficiency, your company's margins, and your customers' satisfaction!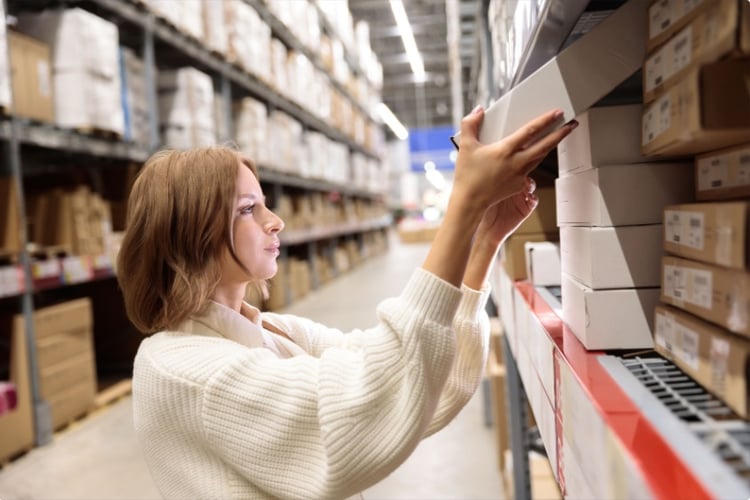 Picking in manual, semi-automated and 100% automated
"Traditional" retail picking consists of picking products from stock, consolidating them and routing them to a packing area before shipment.
More complex to manage and optimize than the handling of pallets or parcels, picking (i.e. retrieving one or more products of variable size from different places) is based on different processes, equipment and IT tools, depending on the type of warehouse.
Picking in a "manual" centre
In a warehouse where most operations are manual, operators go to the goods to pick products, using manual or semi-automated handling methods such as forklifts. This process is called man to goods.
Without a designated itinerary, the routes followed by operators are sub-optimal and order picking is more unreliable as a consequence.
Picking in a semi-automated centre
Picking in a semi-automated warehouse is often controlled by an ERP, OMS and/or WMS warehouse management solution. Operators follow a designated route, using terminals or voice picking, to optimize their movements and make picking more reliable.
The major drawback of this process is that operators have to make more round trips, which reduces productivity and adds physical exertion.
Picking in an automated centre
In an automated warehouse, goods move to the operators via conveyor or robotics systems; picking is faster and more reliable, and operators spend 100% of their time preparing orders. This is what we call the goods to man method.
The different picking methods
Depending on your warehouse, the complexity of your workflows and the turnover of your goods, picking methods vary.
One picker, one order: single order picking
The operator picks the items necessary for preparing the customer's order from the storage racks.
Advantage: this method is easy to implement and follow.

Disadvantage: much operator time is unproductive.
Multiple pickers, one order
In a warehouse divided by zones, operators working in their designated zones pick all the products in a single customer order and consolidate them in a sorting zone.
Advantage: easy to implement and follow.

Disadvantage: picking is low-volume and unreliable.

One picker, several orders: multi-order picking
The operator prepares several orders simultaneously. First he retrieves all the items required for all the orders, then he distributes them around the various orders.
Advantage: operators follow an optimized picking route.

Disadvantage: time lost in consolidating articles, especially with orders containing many SKUs.
One picker, one SKU, multiple orders: batch picking
The operator simultaneously retrieves several units of the same product, often using a cart with trays corresponding to the different orders.
Advantage: faster processing of best sellers (SKUs ordered daily) and items of similar dimensions.

Disadvantage: operator movements at times of peak activity.

One picker, fulfilling orders according to a defined route and time: wave picking
The operator, often working in a designated zone of the warehouse, picks items for several orders in a specified time period and routes them to a consolidation zone where they are consolidated according to shipping priority, transportation route etc.
Advantage: greater picking efficiency, controlled by a WMS.

Disadvantage: the need to create a consolidation zone.

One picker, one box: pick and pack
The operator picks the item for an order and places it directly in the designated box for this order. The box can then be carried, via a conveyor, to another operator who completes the operation.
Advantage: reduced handling and less operator movement.

Disadvantage: requires significant investment in IT tools and conveyor systems.

The more steps in the picking process, the lower our productivity and the higher the likelihood of unreliability. Not to mention exploding operating costs!
Now more than ever, goods to man automated picking is the solution! This is especially true in the case of low- and medium-turnover products, which in most of the methods listed above require a buffer zone and additional handling to finalize the preparation of orders.
The benefits of goods to man automated picking
Increasingly the solution of choice in warehouses processing medium- and low- turnover products, with the goods to man method the goods (for one or more customer orders) are carried by robot or conveyor systems to a fixed station where the operator consolidates and finalizes the orders.
Which means less unnecessary circulation and handling.
Automated picking improves the productivity, reliability and quality of your order picking operations, while eliminating legwork and reducing the physical exertion required of logistics operators.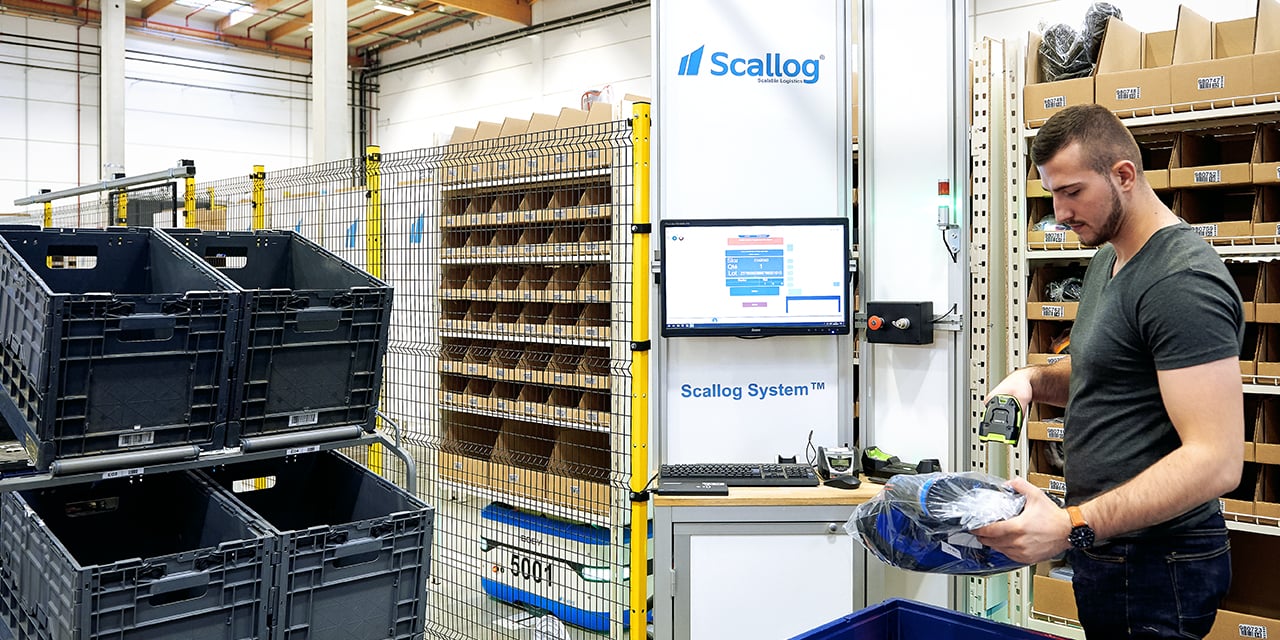 Conventional automation solutions for high-turnover products are often expensive and difficult to remove, and in our view a goods to man robotics solution represents the best alternative for handling large volumes of small orders from a wide product assortment and on a continuous basis. The SCALLOG robotic picking solution delivers on performance, agility and logistics costs!
Unparalleled productivity gains
Operators no longer need to move around the warehouse: they concentrate exclusively on order picking. As their tasks are better articulated, they can perform them quicker.
Together with the speed of the robots carrying the shelf units, the productivity of the operator depends on the ergonomics of the picking station, which must permit a sustained pace of picking, without waiting times and in optimal working conditions.
Benefits of the SCALLOG goods to man solution:
total elimination of legwork,
optimization of handling,
operator productivity increases threefold: 200 to 450 lines processed per hour, depending on the sector of activity.

Reliability and track and trace
Reliable picking is paramount, and it's important to assist operators in the accomplishment of their tasks. A spot-to light points to the compartment containing the item to be picked, and a put-to light points to the compartment in the buffer rack where the item is to be placed.
Here again, ergonomics makes the difference when it comes to order picking quality, which in turn determines customer satisfaction. Picking stations may also include a weigh station for safer picking.
Benefits of the SCALLOG goods to man solution:
Easy-to-follow assistance from WMS at all stages of picking,
High -quality, error-free order picking - and fewer customer returns as a consequence.
A drastic reduction in physical exertion
Carrying heavy loads, pushing carts, walking 15 km a shift: that's the everyday reality of an order picker in a traditional warehouse, especially in the hypermarket sector. The consequences: musculoskeletal disorders and even accidents.
Converting a man to goods system into goods to man alleviates these problems and considerably improves working conditions. In a goods to man workstation, everything is designed to make bodily movements as natural and fluid as possible.
Benefits of the SCALLOG goods to man solution:
Accidents reduced to 0,
Elimination of legwork, bad postures,
Drastic reduction in the costs associated with work stoppages, absenteeism etc. which affect logistics performance.

Optimized storage area
Robotized storage zones are high-density, with more SKUs per square metre and narrower aisles.
Benefits of the SCALLOG goods to man solution:
Gains in surface area of 30-40%,

Real-time visibility of stocks, important for just-in-time logistics.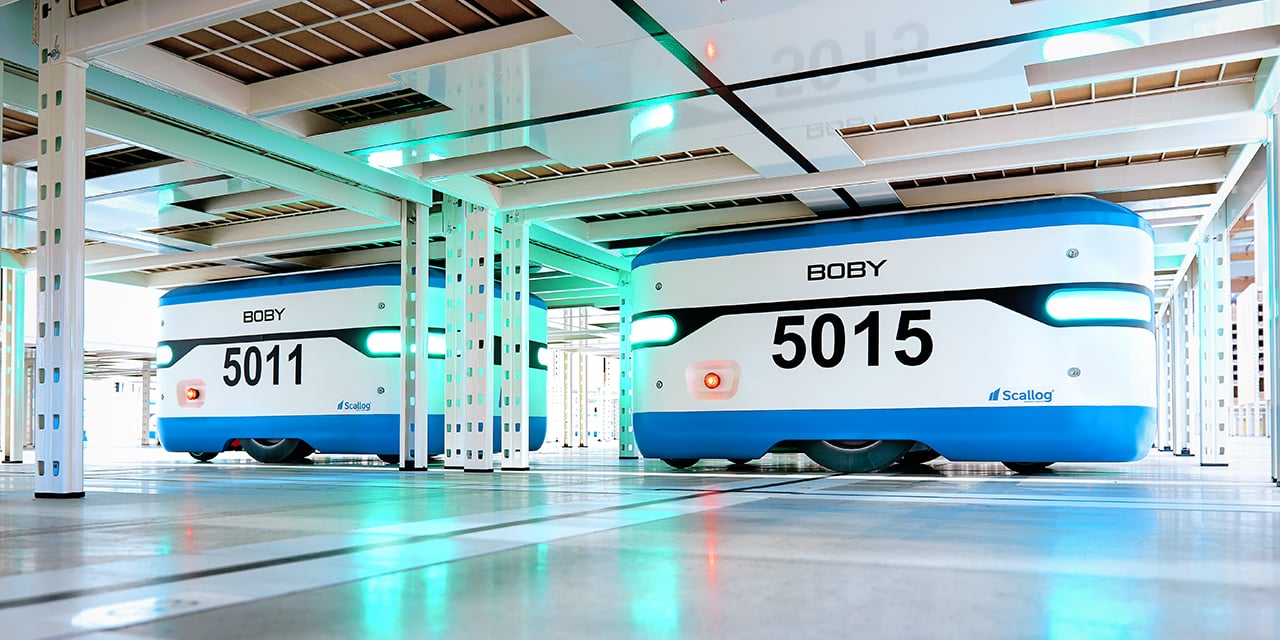 Enhanced responsiveness to changing demands
During periods of peak activity, additional robots can be rapidly deployed in just a couple of days and the automated storage area can be expanded accordingly, as all equipment rests on the floor but is not fixed to it (a non-structurally-dependent solution).
Goods to man robotics offers agility and reactivity so you can adapt your picking processes to uncertainties, seasonal trends and variations in demand, in the shortest time and at the lowest cost.
Benefits of the SCALLOG goods to man solution:
Moderate investment
Excellent response to activity spikes.
Improved speed and reliability of warehouse operations
In order picking particularly, speed is of the essence when it comes to meeting the delivery requirements of consumers, for shipping and delivery times can hardly be reduced further.
--
In today's world, optimized picking necessarily involves automation, and especially robotics, as a complement to stock management solutions and software intelligence for workflow optimization. The same goes for inventory, restocking, packaging and transfer between zones - with the robotics solution from SCALLOG.

In France, only 11% of warehouses are automated. Yet robots working in the service of human operators are the future of logistics.

Stay ahead of the curve and automate your warehouse and picking processes with SCALLOG robotic solutions: they're agile, flexible, offer rapid ROI, and don't disrupt your existing logistics arrangements!