In addition to meeting the challenges of productivity and speed imposed by a market faced with increasingly demanding consumers, logistics professionals have to optimize all of their workflows, processes and operations to reduce costs and improve competitiveness.
Several levers on the supply chain can be worked in pursuit of this goal:
Reduction in cost of last-mile freight
Optimization of stock
Rationalization of resources
And above all, improved order processing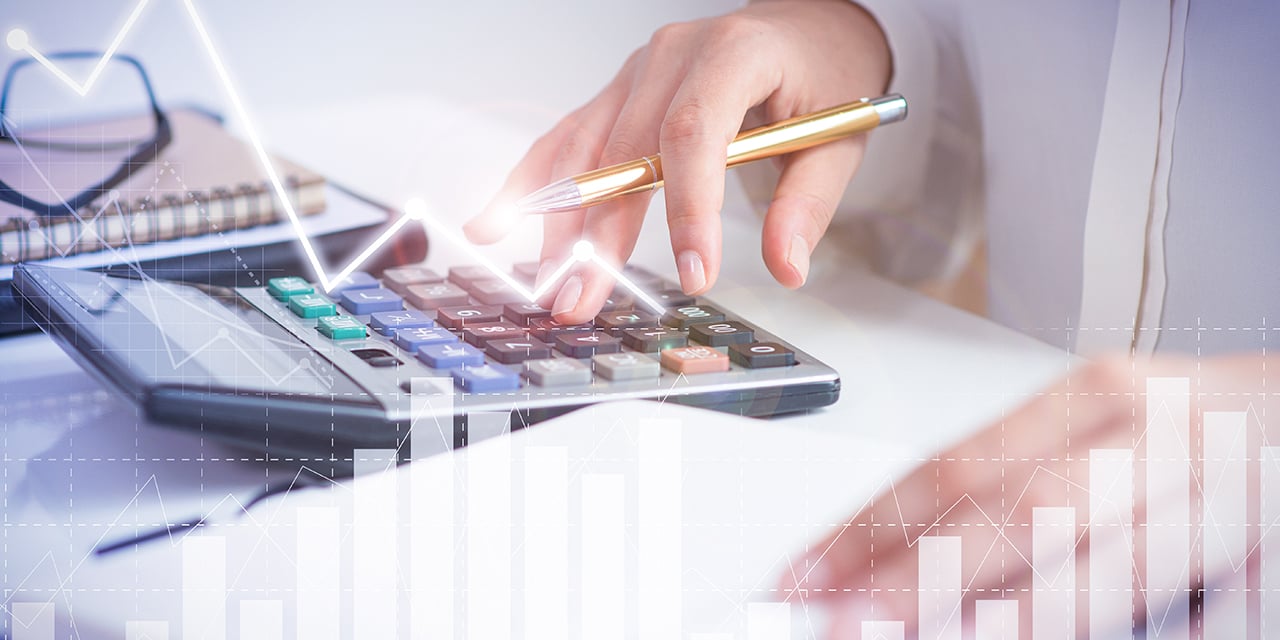 Each of these factors (like stock management, whose costs represent between 15 and 35% of the value of the stock per year) makes a major contribution to your company's sales and margins.
Let's take a closer look at order picking, which is one of the most high-consumption jobs in logistics in terms of time, resources and effort!
Which metrics should we monitor to optimize the cost of order picking?
With transport and delivery times increasingly harder to reduce any further, logistics managers have no choice but to optimize order processing times in their warehouses, while simultaneously reducing resources and costs per item.

Logistics professionals can choose between two types of order picking:

the manual, man to goods method - the operator goes to the product

the automated (or robotic) goods to man method -

the product comes to the operator.



Depending on the warehouse and the initial investment in technology, logistics managers must accurately evaluate every component of the order picking process to calculate the cost price.
They can also identify potential savings, beyond those relating to traditional storage and operating costs, on input costs, handling costs, processing capacity and storage space.
Upstream processing of sales orders
In addition to organizing their warehouses as well as possible according to storage requirements and workflows, logistics managers have to draw on all the data sources in their supply chain to optimize one link in particular - order picking.
WMS software is required to centralize all sales orders and plan the 3 principal stages in order processing - route, picking and packing - to oversee real-time stock control and automated restocking.

You can't reduce your order picking costs without a stock management solution that ensures the right product, the right packaging, in the right quantity with every sales order!
Fine picking - a key element
While storage is essential for the efficient picking of retail items, there is much room for improvement in other areas too, including the optimization of operator picking routes in terms of quantity and distance.
Therefore, picking routes must be adapted according to the products to be retrieved - depending on their category (low or high turnover) and according to the processes most suited to the task: picking by item, wave or zone.
Here again, WMS is crucial. Fine picking is the most time-consuming of all operator tasks!
Strenuous tasks mean hidden logistics costs
Logistics professionals must also work to manage their human resources as effectively as possible with the goal of speeding up their work rate while reducing the number of strenuous tasks - and this in a sector, logistics, with low job attractiveness.
The figures speak for themselves: a picker travels 10 to 15 kilometres a day on average, while a handler carries 1 to 10 tons a day. Improving working conditions goes hand in hand with increasing the competitiveness of your teams.
To limit repetitive travel, physical effort, movements likely to cause MSD, and the staff shortages related with these phenomena (not to mention the need to hire temporary personnel), you need to look at alternative ways of organizing thing. This is where robotics comes in!
Three ways robotics help you optimize your logistics costs
Robotics is the spearhead of process industrialization and is increasingly being adopted by warehouses to meet the challenges they face in terms of speed, flexibility and profitability.
Retail, industry and e-commerce players have a need for flexible, efficient and automated order picking processes in a context where the workflow can vary greatly from one week to the next, according to the ever-contracting intervals between activity spikes.
With robotics you can make gains in storage surface, productivity, manpower and logistics costs!
Denser storage
Denser storage is the first benefit offered by robotics!
Goods to man robots bring products to the picking stations. Operators no longer need to go out and get the product, so aisles can be much narrower and there's room to store more SKUs.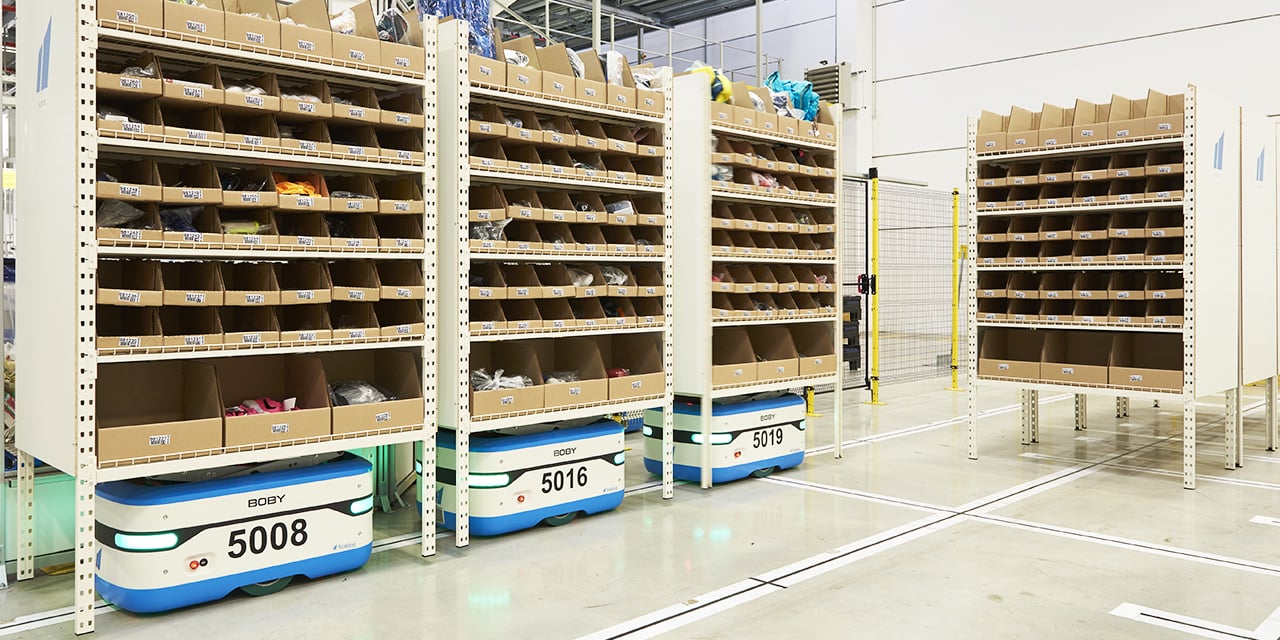 With the SCALLOG solution, Boby robots carry shelf units holding many low- and medium-turnover SKUs to picking stations, where the required items are selected.

With goods to man robotics, you make storage savings of 30% or more!
Improve productivity and accelerate operations
The race to efficiency means order picking has to be more reliable and faster than ever. A robotics solution helps here too!
With robots, you can exponentially increase your order picking rates (including packing), while improving reliability and track and trace.
Not only that, but robotics - especially software-driven intelligence coupled with good data quality - can optimize all physical workflows to keep rates as smooth as possible, even during peak activity periods.
As for the efficiency of goods to man robotics, productivity is three times higher than with manual order picking processes!
Optimize resources and reduce strain
Finally, goods to man robotics overcome the problem of labour management during peak activity periods, and considerably improves the working conditions of operators. Robotics don't eliminate the human element: only the strenuous tasks.
SCALLOG robots carry shelf units to picking stations, where operators are guided in their picking tasks by a light pointer known as a spot-to light, which makes their work easier and reduces the need for awkward movements.
The closest ally of logistics operators, goods to man robotics relieve humans from the need to do 10 to 15 kilometres of legwork every day and make awkward, unnecessary movements that are a source of TMS and the absenteeism this disorder causes!
Besides boosting productivity, robotics ensures a truly flexible supply chain.
In the face of unpredictable demand, customer requirements and business fluctuations, the management of logistics workflows is constantly evolving and getting more complex all the time.
Agility, flexibility and scalability lie at the core of SCALLOG's robotics solutions. Our solutions can be easily relocated inside your distribution centre or moved to another building entirely. And extra robots (including rented ones) can be quickly deployed.
Today's logistics managers have much to gain from automating their order picking processes, including reduced times between order and shipment of goods and increased customer satisfaction - without adding to costs.
The perfect example of the new approach is Amazon, which is deploying robots in its fulfilment centres to optimize the logistics processes which are the key to its success - and that's while reducing the associated costs, which have increased 25-fold in just 10 years!