Handling is an integral part of logistics.
Its purpose is to move products, at the "right" cost , in the "right" quantity and at the "right" time, to the "right" location.
"Handling" designates all manner of actions performed manually in the distribution centre.
These include tasks such as lifting, pushing, placing, or moving: all of which involve physical exertion and possible discomfort.
To improve productivity and efficiency, today's logistics professionals are looking to automate and even robotize these tasks. Let's look at current best practices in automated handling and its future: robotics !
What is automated handling?
Automated handling relies on automated solutions instead of physical exertion by human beings
A wide range of mechanical equipment is used in automated handling systems. Traditional handling operations can be made lighter by automated assistance.
Trolleys, conveyors, and robots are increasingly performing activities as diverse as lifting, pulling, pushing, storing and retrieving goods. An automated system not only facilitates handling, but also ensures operators work safely.

To optimize their processes, improve the availability of their products and reduce their delivery times, logistics professionals must choose the most appropriate handling solutions.
The choice depends on the sector of activity, variations in workflow and the type of product being handled - high, medium, or low turnover.
Supply hubs can be fully automated in one go or in gradual fashion, via the flexible combination of manual and automated handling operations.
There are many kinds of automated handling hardware in a distribution centre. It includes:
Conveyors (rollers or chains) for automated reception and dispatch of pallets

AMR to facilitate load movements

AGVs for automated retail picking

Whatever the solutions, automated handling addresses three primary concerns:
optimization of warehouse workflows through improved management of goods movements

increased operator productivity

reduced logistics costs

The revolution in handling
Every year, over 200 billion euros is spent on moving pallets around the world. 7 million handling trucks account for 30 billion euros of this expenditure. The rest goes on payroll.
That's in a context characterized by labour shortages in the logistics sector. A convergence of factors that makes automation, such as robotics and automated handling, a major issue.
It's a question of optimizing costs through productivity and quality.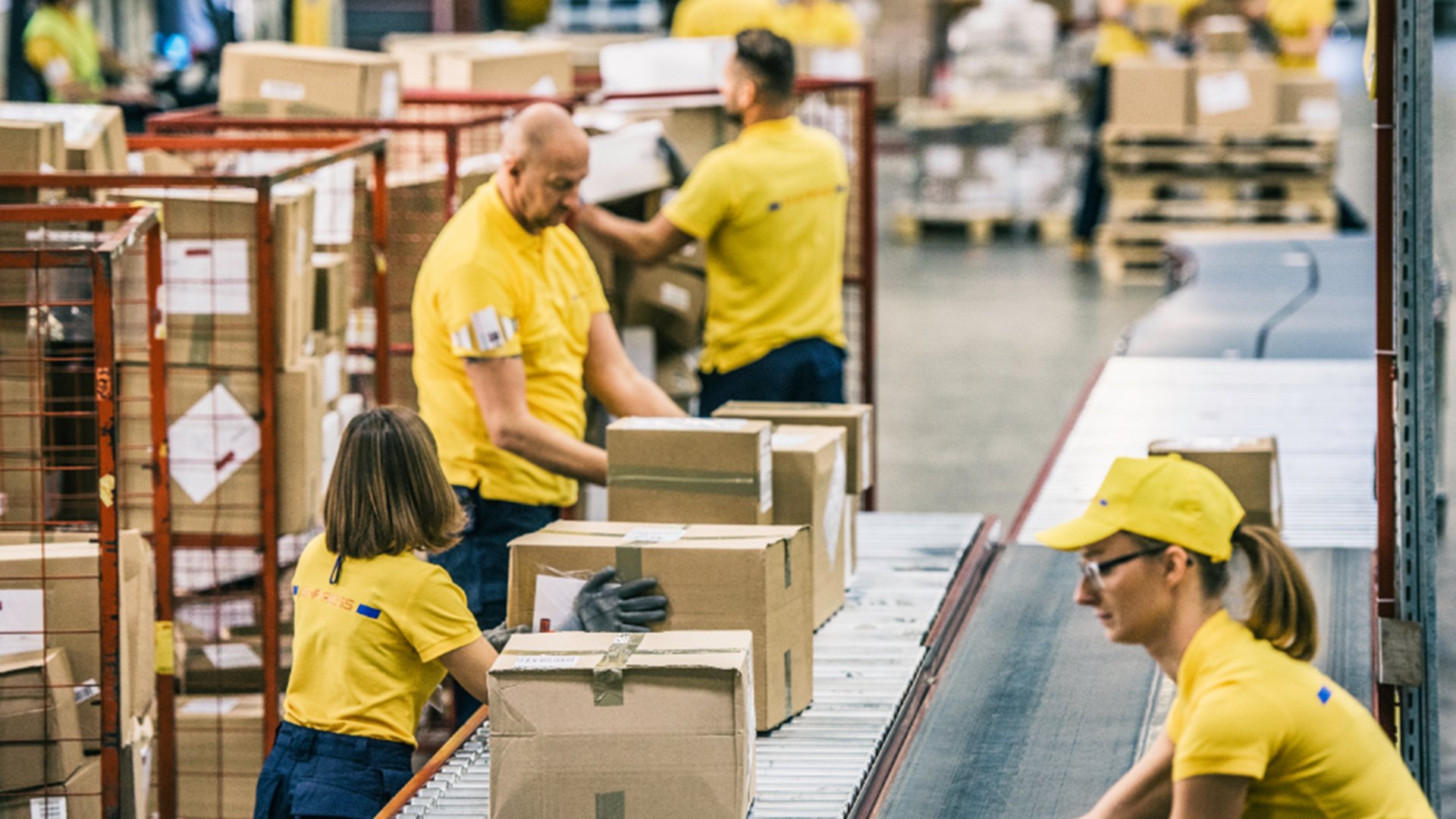 Also, regulations on repetitive tasks and risks in the workplace are becoming tougher, which requires the introduction of new practices addressing the well-being of logistics sector employees.
In Europe, over 30% of fatal accidents in the workplace are related to the handling industry. According to Eurostat, these accidents occur as a result of the loss of control of transport or lifting equipment.
Simply put, automation and robotics are essential if the logistics sector is to meet the new challenges posed by costs, working conditions, and the need to optimize productivity.
The benefits of automated handling
Time savings, improved quality, fewer repetitive tasks... The benefits are many. Installing an automated system lets you:
Improve warehouse performance and productivity by accelerating throughput

Optimize storage space

Make operations more reliable, especially order picking

Enhance the agility and flexibility of processes, allowing them to adapt to market developments and consumer demand, including in e-commerce

Absorb and smooth activity spikes without the need for additional human resources

Facilitate information flows and communication in the distribution centre, which is no longer composed of process "islands"

Reduce the difficulty of work, especially in terms of travel, repetitive gestures and carrying heavy loads

Meet new health requirements on operator protection and Covid-19 by limiting movement, proximity and physical interactions.

Automation and robotics are re-defining the competitiveness and flexibility of distribution centres.
Robotics - the future of automated handling?
Considered a disruptive technology just five years ago, robotics are now the norm in warehouses and distribution centres.
Boosted by promises of productivity gains ranging from 20 to 30% and guaranteed ROI in less than 2 years, AGV, AMR and collaborative robots have been massively deployed to automate the most difficult and repetitive logistical tasks.
Far from replacing operators, automation works in their service and relieves them of much of the burden of their work.
Collaborative robots and the health of your employees
Whether they're fitted with an articulated arm or mounted on wheels, cobots, also called collaborative robots, work closely with human operators.
Their collaboration is designed to reduce the musculoskeletal and similar ailments to which operators are exposed.
Cobots can work autonomously or help an operator, or alternate precision work with general handling. Their arms can perform several different tasks at the same time.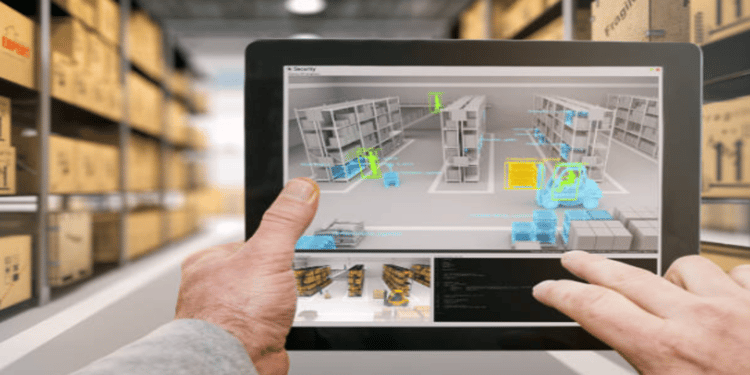 Heavy load carrying, pallet transfer, heavy packaging: cobots are especially suitable for the most difficult and arduous tasks. Operators simply need to check that the process is running smoothly, and intervene if necessary.
The emergence of the AGV
AGV - automated guided vehicles - are mobile robots capable of carrying trays, packages and shelf units along predefined routes via an optical guide system.
Under stringent European regulations, their use is largely restricted to closed environments.
AGV are commonly used in goods to man picking, where the goods go to the operator.
A fleet of robots carries shelves stacked with product to picking stations where operators retrieve the items they require. Which is exactly what happens with the Scallog solution.
Operators no longer need to go and get items, and save between 10 and 15 km of legwork every day. That means increased productivity and reliability in order picking.
Another advantage, and not a negligible one, is that new AGVs can be deployed quickly and easily to the distribution centre, with no disruption to other AGVs or general operations.
Autonomous mobile robots (AMR)
Autonomous mobile robots (AMR) are capable of performing precision tasks. They move around a distribution centre independently, without a guidance system.
AMRs can use different technologies to adjust their trajectory. These include obstacle detection sensors (laser guidance, video etc.), Artificial Intelligence (AI) software and Machine Learning software (ML).
These robots are coupled to a WMS and are ideal for moving light load units. They help operators in their picking tasks via human machine interactions.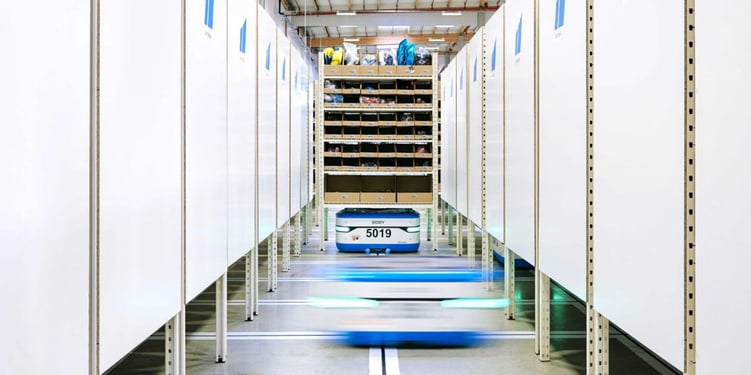 AMRs are particularly good for precision logistical tasks where human intervention is common, such as sorting or picking in e-commerce.
However, they are much more expensive than the traditional method (due to complex on-board electronics), and slow in their movements (due to safety regulations on operations in the same environment as human personnel).
But this is just the beginning for robot-assisted logistics. The technologies of the future, such as AI and IoT, will boost robotics and revolutionize automated handling once again.
According to ABI Research, 4 million robots will be deployed in warehouses by 2025: that's a thousand times more than in 2018.